---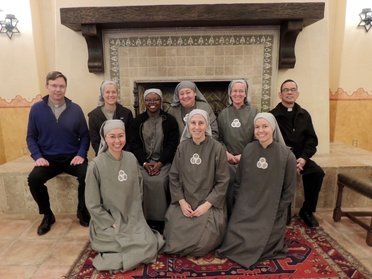 Our Lady's Montessori School was founded by the Society of Our Lady of the Most Holy Trinity (SOLT) in 1975. The Society of Our Lady is an international Catholic religious community composed of ecclesial teams of all the vocations - priests, religious brothers and sisters, and laity.

The Society of Our Lady began the school on Tracy Avenue in Missouri in 1973. Originally named 'Children's House', it included a primary Montessori class and an elementary school. It served the Squier park community until 1999.

Since there is still a need to provide quality education utilizing Maria Montessori's principles with strong Catholic values, SOLT opened the doors of OUR LADY'S MONTESSORI SCHOOL (OLMS) in 2002. The school resides in a quiet neighborhood on 3.11 acres of land.

​Sr. Alison Marie of Abba Father entered the Sisters of the Society of Our Lady of the Most Holy Trinity in 2003 with a Bachelors in Theology from Our Lady of Corpus Christi (2002) and one semester of Graduate studies in Counseling at Franciscan University of Steubenville in Ohio (2002). She's had the joy to spend her first 10 years in Religious Life serving in all areas of Catholic education including elementary education instruction and development work, college admissions counseling, parish catechesis, as well as serving in St Joseph's Dream, a SOLT founded foster care center in South Texas. Most recently she served a large parish in metropolitan Phoenix, Arizona, as English Ministries Coordinator directing 24 active ministries serving a population of roughly 2,000 families.
Mrs. Sarah Howard joined Our Lady's Montessori School in 2011 with a Bachelors in Family & Consumer Science from Missouri State University (2002). Over the last six years, she has grown along with OLMS as the Lead Teacher in the 1-3 years old room, the Assistant Teacher in the Primary classroom and Administration. Sarah has spent the last 10+ years working and volunteering with children in the after-school scene and daycare. In July 2014, Sarah obtained her MEPI Montessori Certification for Classroom Director of Early Childhood Education. In January 2016, completed her formation as a Catechist for the 3-6 years of age Catechesis of the Good Shepherd program.
Ms. Crystal Cello joined Our Lady's Montessori School in 2012. Her family has been involved with SOLT for over 20 years and Crystal was blessed to have been raised in the community. She continues to pursue her faith by helping to lead the young adult Catholic community in which she now lives. Crystal has a Bachelors in Psychology with an emphasis in education from Benedictine College. She spent 10 years prior to her work at the school working with children and teenagers with behavioral and emotional disorders and as an Autism ABA Implementer. Crystal began her work at the school as an Assistant Teacher in the Primary Classroom and now joins the administration as an Assistant Director.