---
August 2017 Newsletter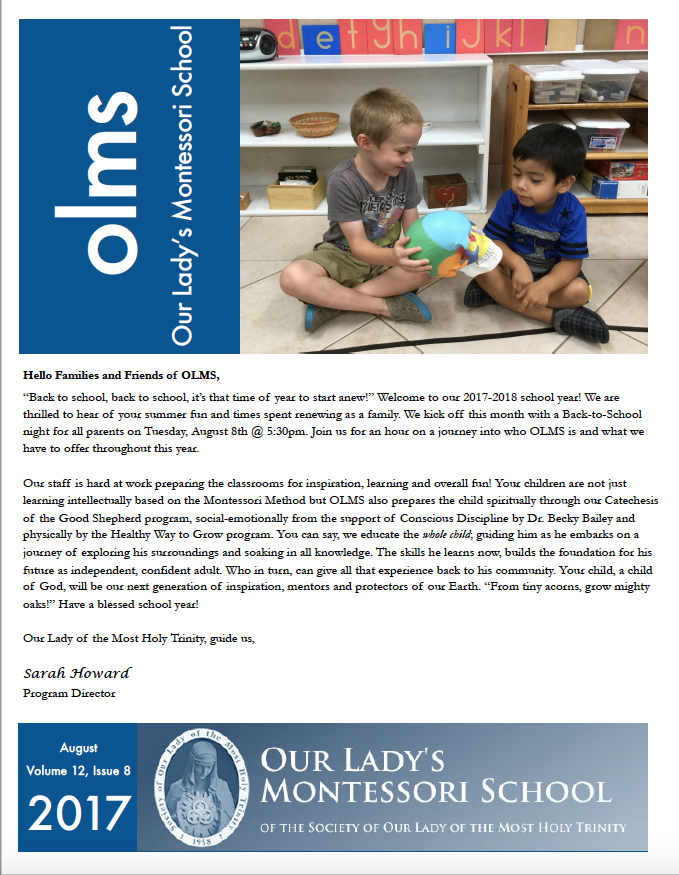 ---
​Toddler Community
Ages 12 months to 3-years
The toddler develops his attention span, coordination, and feelings of security and independence daily, while participating in individual and group activities, music class, circle time including learning the weather, reading stories and arts and crafts.

They spend time outside each day, weather permitting. They have breakfast, lunch and an afternoon snack. Nap time each day is between 12:00-2:00 P.M..

The toddler environment nurtures a Montessori philosophy, "Help me do it by myself".
Angels (Ages 1-2)

Ms. Anita, Ms. Reyna and Ms. Sandra

Children ages 12 months to 2-years who have established independent walking, may begin their Montessori experience in our Angels room.
Maximum enrollment in this program is 10 children.

Within this small and nurturing environment, a specially trained teacher and an assistant guide support the toddlers in their innate sense of independence, order and love of learning.

Saints (Ages 2-3)

Ms. Lauren, Ms. Chazeraa, and Sr. Maria de Jesus

Children ages 2-years may begin their Montessori experience in our Saints room. Maximum enrollment in this program is 14 children.

Toddlers are given the time and opportunity to engage in purposeful work that meet their individual developmental needs. They practice skills such as caring for themselves (including toileting) and their environment.
---
Primary Community
Ages 3-6
Our Lady's Montessori School Primary community nurtures children's natural motivation by complimenting their enthusiasm for learning with opportunities to fulfill their needs and interests. Each of our loving Montessori guides prepare an environment that invokes the child to come and touch. These materials, beautifully arranged in order on shelves, ARE the curriculum through which the child progresses to learn. The materials give the child tools and the freedom to empower their God given inspirations.

In both highly ordered and prepared Primary environment, each work presented to the child offers a new challenge for the child to master. These build upon one another to lead the child toward independence and confidence. Each morning, the three-hour work cycle allows the child an uninterrupted period for self-directed concentration. The child may request a new lesson or return to practice lessons already presented. Over time the child progresses toward a well-balanced use of self directed time, a state Maria Montessori referred to as 'Normalization".
The Montessori classrooms provide four areas; Practical Life, Sensorial, Language and Mathematics. Geography, Art, Music and Science are also included in each environment.

PRACTICAL LIFE are activities a child encounters in daily living, such as pouring, sorting, matching, sweeping and polishing. These excercises build self-esteem, fine motor, focus and concentration.

Each SENSORIAL material isolates one quality such as size, volume, width, length, touch, temperature, weight, color, shape and sound. Repetition is encouraged to allow the child to achieve mastery.

Children are immersed in LANGUAGE throughout the day. They participate in conversations, songs, poems, stories and discussions. The alphabet is taught phonetically as a foundation for reading.

Basic MATHEMATICAL foundations of order, sequence, patterns, relationships, quantity and dimensions are developed in the PRACTICAL LIFE and SENSORIAL areas. Now the child is ready to go on and add numerical value to the concepts already absorbed.


Our Lady's Montessori School strives to provide an environment rich with sciences, geography and art media and music appreciation through animal life, plant life, cultural studies and weekly music workshops.
---
Substitute Teachers